_______________________________________________
Cognac is the best known type of Brandy in the world.
The Cognac region is located just north of Bordeaux.
The region is subdivided into six growing zones:
Bois Ordinaires
(19979 hectares together with Bons Bois).
Further out from the four central growth areas are the Bons Bois and the Bois Ordinaires.
With a poorer soil and very much influenced by the maritime climate, this area of 20,000
hectares produces eaux de vie that are less demonstrative and age more quickly.
These lesser crus are excluded from blends by some manufacturers.
Borderies
(4160 hectares total)
The smallest cru, eaux de vie from the Borderies are the most distinctive, with nutty aromas and flavour, as well as a distinct violet or iris characteristic.
Cognacs made with a high percentage of these eaux de vie, for example, "Cordon Bleu" by Martell, are dominated by these very sought-after flavours

Fins Bois
Fins Bois (34265 hectares total)
Heavier and faster ageing eaux de vie suitable for establishing the base of some cognacs.
Rounded and fruity, with an agreeable oiliness.

Bons Bois
The first two produce the best Cognac. Virtually all Cognac are a blend of Brandies from different vintage and growing zones.
There are some terms to difference Cognacs: V.S (very superior)or V.S.P (very superior pale), a minimum of two years aging in a cask, although the average is four to five years; V.S.O.P (very superior old pale), a minimum of four years cask aged for the youngest Cognac in the blend, although industry average is being between 10 to 15 years; X.O (extra old), a minimum of six years for the youngest Cognac in the blend, the average age running is 20 years or more.
The oldest cognacs are removed to glass containers to prevent lost from evaporation and excessive woody flavores.
Armagnac is the oldest type of Brandy in France, located in the southwest corner, there are three regional growing zones. The best Armagnacs are aged in cask from the local Monlezun oak.
see what Wikipedia has to say about Types of Brandy
To name a few
Cognac- Outstanding brands:
Camus Grand VSOP,
Cohiba Extra,
Courvoisier (VS, VSOP, Napoleon, XO Imperial),
Delamain, Hardy (VS, XO),
Hennessy (VS, VSOP, XO, Paradis, Richard, Pure white),
Hine (Signature, VSOP, Antique, Family Reserve),
Landy VSOP,
Martell (VS, Reserve, Cordon Bleu),
Otard VSOP,
Remy Martin (Grand Cru, VSOP, 1738 Accord Royal, XO Special, Extra, Louis XIII).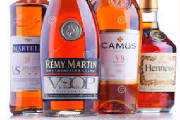 Armagnac- Outstanding brands:
Cles des Ducs, Janneau (Tradition VS, 5 year-old, Anniversaire).
Calvados- Outstanding brands:

Boulard (VSOP, XO, Horse D'Age).